This spring our agency is turning 10 years old. Most of our clients (and most people in web design circles) revisit and redesign their website every 2-3 years, and we were no exception. Last spring we launched our 4th new website. There was nothing wrong with our previous website. It was just...old. It felt old from a design perspective. It felt old from a messaging point of view.
As a company grows, launches new products, pivots and retires the initiatives that no longer support its vision, the website can fall out of sync with the short and medium term objectives of the organization. Building a website for a fast-growing company is a bit like buying clothes for a 10-years old - you need to accommodate some room for the rapid change, otherwise the sleeves are too short again in a few months.

Agility and flexibility in scaling, updating and experimenting became the pivotal factor in our website redesign approach. We needed to be able to experiment with different content types, new service offerings, and user experience insights that we extracted from our in-house design sprints. We needed a CMS that could enable it all. We also wanted to empower our sales and marketing team to create their own pages, observe how our potential clients interacted with those pages, and automate wherever possible.

We are a software development company, and you might think we would launch an even more customized code-heavy website to showcase our skill. Indeed we had done that in the past. Yet spending vast resources on a presentation website cuts against our core belief that companies should only use technology to solve problems when it is, in fact, useful. Besides, our developers had plenty of work. So building and updating our new website, we decided, should require as little developers' support as possible. Ideally, none at all.

So we did some researching, and we did some design thinking, and we even did some prototyping on different platforms, and somewhat counterintuitively, we made the bold choice as a custom dev shop to build our website on a no-code platform.
No-code VS Low Code
Between custom-built websites and websites created with no-code builders, there is a vast land filled with websites created with low-code platforms. One of the best known examples of this cohort is Wordpress. It was what our first website was built on. Low-code development platforms allow developers of all skill levels to design applications and websites quickly and with minimum hand-coding by dragging and dropping visual blocks of existing code into a workflow. According to Forrester research, low-code development platforms can make the process of software development as much as 10 times faster than traditional methods. It is always smarter to avoid repetitive coding, duplicating work or reinventing a wheel, when instead you can focus on creating a new value that differentiates your app or website from the thousands of others. That's also the reason why developers use programming libraries of prewritten code to optimize tasks.

​​Gartner forecasts that three-quarters of large enterprises will use at least four low-code development tools by 2024.

While low-coding and no-code development is driven by the same desire to avoid manually writing a digital experience from scratch, the audiences they cater to are different. To benefit from low code, you still need a certain level of technical understanding. To create a website on a no-code platform, you don't need to know how to write a single line of code.
The No Code Development Revolution

No-code decouples programming languages and syntax from logic, and instead takes a visual approach to software development to enable rapid delivery. Webflow, one such platform, compares knowing how to code to literacy and invites us to imagine the world where only one out of 400 knows how to write. Humanity would be robbed of so many ideas. The real numbers are more stunning: less than 0.5% of the population knows how to code. Now, if the analogy with literacy is completely accurate, the solution would be to find a way to teach everyone to code. What no-code does instead is eliminates the need for this knowledge as a barrier of entry to building products and businesses in a digital world.
Pros of No-code Development
Speed.

T

he ability to prototype and gain real world user feedback quickly is the backbone of successful market fit discovery and innovation for startups and bigger companies alike. With no-code, business users can

rapidly develop and iterate their ideas, gather feedback and prototype new concepts to run faster innovation cycles

. All that without diverting in-house IT teams from core development projects

.

No dependency on software developers. If you aim to bring your business online, create a presentation website and keep it updated, or set up a small to medium e-commerce store, no-code tools enable you to do it with a non-technical team.
Resources saving. Creating a website on a no-code platform is less costly than developing a custom website from scratch. Depending on the platform you choose for the task, you might need to pay for domain registration, hosting, templates, integrations and additional functionalities. You might also need a designer's help.
Integrations. Although every platform has a unique set of features and limitations to offer, the wide range of integrations available for no-code platforms allows you to work with all your tools seamlessly.

Interdisciplinarity. More members of your team can participate in building your digital experience. Our website was built by a diverse group that included our leadership, content, marketing, sales and design teams. We collaborated at every step of the way, from brainstorming to prototyping, to testing with users, to delivery and updating. How else could one enable these multitude of perspectives and functions to work on a project together?
Cons of No-code Development Platforms
All of the downsides of using a no-code platform are rooted in lack of control over code.
Lack of customization. ​​Customization beyond the choice of template design, out-of-box functionality and available integrations require adding your own code. While some platforms give you more room for it (HubSpot CMS and Webflow allow you to add custom blocks of HTML code to your design), others won't allow it (Squarespace). Either way, you won't get the limitless possibilities that a custom-built website would give you.
Security risks. The security of your website will only be as good as the provider makes it. While no-code development platforms can take security very seriously, the lack of control over code means you are subject to what happens to the company providing your no-code platform if it gets acquired, liquidated, or suffers a security breach.

Vendor lock-in and tool constraints. Most of the no-code platforms make it difficult to migrate the content to a different website builder or CMS.
A List of the Most Popular No-code Development Platforms
As with many other digital tools, there are more offerings of no-code website builders on the market than anyone can reasonably go through when choosing the right option. Many of them position themselves as one-stop solutions, including a website builder, domain registration, hosting, security, and sometimes marketing automation. We'll cover the four no-code platforms that we work with the most.
Conclusion - Delivering Solutions Faster with No-code development
Turning to no-code website development made total sense in our case. We needed a presentation website where our marketing, content, and sales teams could talk to our potential customers, future employees, and everyone interested in digital innovation and software development. Going codeless made life easier and empowered us to experiment and focus on our craft even more. It also took the load off of our developer team, who used to be responsible for the health of our website. It helped our designers to shape and mold the look and feel of our website directly, without intermediaries in the form of mockups and Figma prototypes. It boosted our SEO.

Whether no-code website development is the way to go for your business depends on many things. We collected the questions you need to ask yourself before making a decision in the resource below and hope it will save you time. If you would like to talk through options together or have questions about no-code website development, just shoot us an email at nocode@sfappworks.com.
---
DOWNLOAD A GUIDE TO CHOOSE THE RIGHT NO-CODE DEVELOPMENT PLATFORM.
---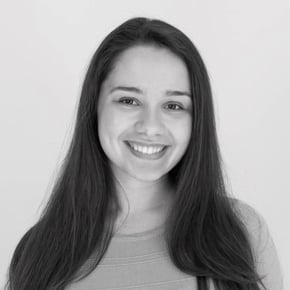 Svitlana Golovnia
Rapid Prototyping of emerging technology at SF AppWorks, Svitlana Golovnia connects battle-tested product people and technologists with forward-thinking entrepreneurs. She's interested in biotech and digital health care and likes working with builders who believe in the role of technology in improving people's lives.