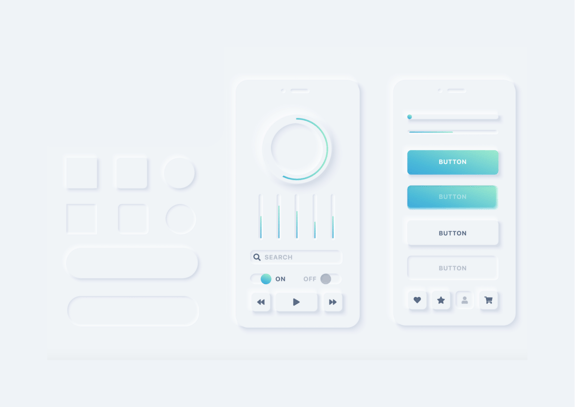 A High-Level Roadmap For Digital Transformation in 2023
A digital transformation roadmap, when done right, can help future-proof your business. Here's an in-depth, 11-step template put together by technologists with 10+ years' experience to guide you in your digital transformation strategy.
Did you find this article by searching for "digital transformation roadmap"? If that's how you found us, you've come to the right place. With more than 10 Million users interacting with our websites and apps monthly, we know that it all starts with a digital product.
The terms "digital transformation roadmap" and "digital transformation strategy" have become buzzwords in a lot of medium-sized and enterprise businesses, but how to actually deploy a solid roadmap tends to be a journey filled with blind spots.
While many CEOs understand the value of digital transformation, when it comes to scope, intensity of change, and repercussions, things can become…complicated.
Facing up to digital reality gives businesses of all sizes a competitive edge and can ​​set them on the course to success. And in case you think you're too late - you're not. The digital transformation market size is forecasted to grow at a compound annual growth rate of 19.1%, from $521.5 billion in 2021 to $1247.5 billion in 2026, as stated in Markets and Markets.
This detailed guide will help you establish the basics of creating and acting on a digital transformation roadmap in 2023.
WHAT IS DIGITAL TRANSFORMATION?
Digital transformation refers to any initiative a company undertakes to integrate digital technologies in order to create new — or modify existing — business processes, culture, and customer experiences. In simpler words, it means dusting off the old tech stack and refreshing it to meet new market requirements.
Embarking on the digital transformation journey is the only way to future-proof your business. Innovative applications for managing business operations and engaging with customers are being deployed and utilized every day. Take advantage of them!
WHAT IS A DIGITAL TRANSFORMATION ROADMAP?
A Digital Transformation Roadmap is a set of steps that organizations can take to migrate from the existing digital processes to new digital processes. Mapping out this journey implies understanding the business needs and finding the gaps in the current system in order to build a strategy to avoid these gaps. A timeline with clear milestones and checkpoints completes the roadmap.
3 MAIN AREAS OF A DIGITAL TRANSFORMATION STRATEGY
TOUCH
CUSTOMER EXPERIENCE
As technology has transformed consumer habits, a robust customer experience allows users to get what they want almost exactly at the moment they need it.
TOUCH
OPERATIONAL PROCESSES
One of digital transformation's goals is the integration of digital technology into a business. This will fundamentally change the ways one operates & delivers value to customers.
TOUCH
BUSINESS MODELS
Enabling for new business models creates new opportunities for developing products, finding clients, and, ultimately, for delivering value.
INFOGRAPHIC
WHY ORGANIZATIONS THAT HAVE TURNED TO DIGITAL TRANSFORMATION ARE BETTER EQUIPPED TO NAVIGATE UNCERTAINTY?
"At least 40% of all businesses will die in the next 10 years… if they don't figure out how to change their entire company to accommodate new technologies."
— John Chambers, Cisco
HOW TO BUILD A SUCCESSFUL DIGITAL TRANSFORMATION ROADMAP IN 11 STEPS
Digital technologies enable organizations to reimagine how they do business and how they engage with customers.
Ready to build a digital transformation roadmap that can set you up to be agile, flexible, and ready to grow?
PRELIMINARY PHASE | STEP 1
Engage The CEO & The Leadership Team
Make sure to align the digital transformation roadmap with the CEO and leadership team's vision, right from the start. Involve team members early and often in feedback sessions and brainstorms. Don't get defensive - embrace criticism as an indicator that a gap in understanding still exists. Work together to find common ground.
The CEO who believes in a vision will communicate that vision to the rest of the team, and to external stakeholders.
Buy-in will also make leadership more accountable, and thus make it harder to back-track and criticize the effort.
STEP 2
Assess The Current Business State
All big journeys begin by taking stock of your current state. Consider answering to the following questions:
What current processes are working?
Where can they improve?
What are the system gaps?
What are the changes that are expected to occur as a result of deploying the digital transformation roadmap?
Based on these answers, you can formulate some basic steps in order to improve.
There are also various frameworks that can guide you in identifying and measuring internal and external factors. Some of our favorites include SWOT, STEEP, or STEEPLE analysis.
SWOT analysis assesses any business, project, or transformation efforts based on their Strengths, Weaknesses, Opportunities, and Threats. Once the SWOT analysis has been completed, the digital capabilities of the company become much clearer.
STEEP analysis can help companies measure political, social, economical, environmental, and technological factors. It transcends SWOT analysis and gives an in-depth understanding of the current state of their digital capabilities.
STEEPLE: adds more capabilities to those identified by STEEP, including the legal and ethical factors that can trigger cultural and compliance gaps within the organization. When included in a digital transformation roadmap, these factors can help improve the organization's culture along with its digital capabilities.
STEP 3
Set Comprehensive Goals
Setting goals is a critical step in achieving real ROI.
Think of these goals and objectives as milestones rather than as destinations on your digital transformation journey and map out the steps your team needs to take to get there. One of the most common misconceptions about digital transformation is that it's a destination. The truth is, customers' expectations are ever-evolving and should dictate the direction of your business. As such, digital transformation is an ongoing process with no finite endpoint.
That doesn't mean your journey should feel endless. A phased approach will help you identify these goals. Breaking your roadmap into chunks and smaller goals can make the digital transformation more manageable for your team.
STEP 4
Secure A High-Caliber Launch Team
Human-centered design, where products are designed with human impact and value at heart, has exploded as a leading UX approach because it creates loyal and evangelical customer bases. That's why the launch team should include designers to contemplate customers' unmet needs. Some organizations even acquire entire agencies that specialize in design thinking.
Along with Chief Information Officers (CIOs), who are responsible for the majority of a Digital Transformation strategy, other essential recruits in a launch team are data scientists and scrum masters, and, of course, developers who can actually deploy the digital transformation roadmap.
High-impact digital initiatives require talent, expertise, leadership skills, change management capabilities, and learning capabilities. But digital transformation is not about disrupting value chains; it's about integrating new processes into older, highly-functional systems.
ACTION PHASE | STEP 5
Start With Rewarding Projects
A good practice is to start the transformation journey with projects that are less complex, easy to deploy, and financially viable. It's a rather mercantile principle: focussing on lighthouse projects at first ensures a faster ROI and a positive feedback loop. In other words, start small, but meaningfully.
STEP 6
Make Sure To Use The Proper Software Tools For Your Digital Transformation Roadmap
We've put together a list of tools that can help teams involved in the different areas of the transformation process:
Digital adoption platforms (DAPs), combined with contextual guidance, can help users to onboard quickly onto new digital tools and processes,

accelerate proficiency by directing users through key tasks, and

deliver

interpretive and evaluative information as users navigate through a product.

Feedback gathering tools can encourage idea sharing, and gather data throughout the transformation journey.
Training materials can help employees to enlarge their knowledge base along the process.
Digital bullet journals allow the team members to monitor progress and milestones throughout the transformation journey.
Employee communication channels facilitate a space where employees can ask questions, share tips, or get updates related to the transformation process. Channels can be Slack or MS Teams, or a Trello board.
STEP 7
Build A Transformation-Ready Culture
Make sure to get everyone on board before any changes take place; employees will be able to see the value in the new digital initiatives and technologies adopted if they're involved from the outset.
Show them how the new systems will make their work more manageable, while reducing frustration. If your team voices concerns about the new technology and processes, take time to answer questions before issues become unmanageable.
STEP 8
Adopt New Technologies
New technologies have created new markets that, in turn, create new customers and new expectations. To succeed in the digital space and remain relevant for the customers, organizations should deliver on their promises in a faster, more nimble way. In turn, the opportunities are immense. We're talking about new business models, new markets, new products, or new services.
Invest in technologies that can offer value to the organization and can automate mundane tasks. In order to achieve outstanding outcomes, teams must be equipped with the appropriate technologies, from AI-powered tools to cloud computing platforms to manage, store, and secure information and data.
CONTINUOUS PHASE | STEP 9
Set A Fast Transformation Pace
Typically, the first few months of your transformation process are crucial and often set the pace for the entire process. According to McKinsey, organizations in the top quartile of successful digital transformation achieved 28% of the digital initiative's value in the first three months.
STEP 10
Keep The End User In Mind As The Digital Transformation Process Unfolds
Think of the end user as the queen on the throne. Ultimately, it's all about your end users — the way they will respond to the products or services your organization is offering. To meet their expectations, every digital initiative should be undertaken with the goal of improving the user experience.
STEP 11
Secure Investments In Agile Project Management
Agile project management can help ensure a collaborative environment for implementing, testing, and responding to change. It transcends the traditional management tactics and facilitates constantly revisiting the set plan.
By breaking the transformation project into sprints followed by feedback and iteration, Agile project management typically has a high rate of success for transformation efforts.
DIGITAL TRANSFORMATION IN NUMBERS
WHAT CEOs THINK ABOUT IMPLEMENTING A DIGITAL TRANSFORMATION STRATEGY?
"Think of digital transformation less as a technology project to be finished than as a state of perpetual agility, always ready to evolve for whatever customers want next, and you'll be pointed down the right path."
— Amit Zavery, VP and Head of Platform, Google Cloud
FREE DOWNLOAD
A GUIDEBOOK ON DIGITAL TRANSFORMATION STRATEGIES (2023)
In our latest Guidebook, we share insights and examples on how companies made significantly more money than what they invested by building a successful digital transformation roadmap. Get some key tips from developers, designers, and technologists to guide you in your digital transformation efforts.
DIGITAL TRANSFORMATION EXAMPLE: ADOBE
In a space filled by various digital technologies, the race towards business model digitalization has already begun; organizations are more aware of this than ever and afraid of being left behind.
There are numerous models and rubrics for separating existing businesses from future, potentially transformative businesses.
A Simple Model for Transformation can be split into these 3 building blocks:
Customers/Market
Products & Assets
Business Model(s)
Consider this outstanding example:
Adobe migrated from a business model that implied selling its design software on a "one and done" basis where customers purchased a license for a single version of its products, to a subscription business model, based on a monthly fee that enables customers access to the latest version of dozens of products. In this process, they facilitated digital distribution and eliminated complex supply chains and production cycles. They also increased stable, recurring revenue.
DIGITAL TRANSFORMATION STRATEGY · FREQUENTLY ASKED QUESTIONS
How can the digital transformation process be monitored?
The person in charge of monitoring the digital transformation process will ensure the proper technology is adopted, decide the sequence of the transformation, monitor progress against targets, and make sure that day-to-day priorities get the attention they need.
What are the three main elements of digital transformation?
The main areas that are prone to change within an organization as the digital transformation roadmap is deployed are: customer experience, operational processes, and business models.
How Digital Transformation Is Changing Business?
The main advantages of digital transformation for organizations are better collaboration within and between companies, more personalized ways of customer engagement, higher employee creativity and productivity, and more accurate insights from the data collected.
When Is The Digital Transformation Process Completed?
In a digital era, when customers' expectations are constantly evolving along with new technologies, digital transformation is an ongoing process with no finite endpoint. This is why you should continuously evaluate your progress and strategy. A flexible mindset is key to identifying gaps and ways to improve the current tools and practices.
GET A FREE COPY OF
'THE INNOVATION COOKBOOK'
HOW CAN SF APPWORKS HELP YOU DRIVE DIGITAL TRANSFORMATION WITHIN YOUR ORGANIZATION?
A digital transformation roadmap can seem like a complex and tedious process. Challenges and hurdles can occur along the way.
But digital transformation doesn't have to be another failed technology investment. Providing in-depth guidance and support for users right from the start and ensuring a fast pace for the transformation process can overcome these challenges.
As businesses are accelerating their tech adoption and their workflow adaptation, a high-level roadmap that allows them to strategically navigate an ever-changing landscape can be a game-changer.
SF AppWorks' experts can help your business accelerate digital adoption by assessing your existing technical systems, designing a technology transformation roadmap, and implementing new systems through custom software development. We're always looking for complex technical problems to work on. Try us.
PROUD TO BE VOTED A FORWARD-LOOKING SOFTWARE COMPANY BY BUSINESS LEADERS LIKE YOU
READY TO DEPLOY A DIGITAL TRANSFORMATION ROADMAP? LEARN:
'HOW TO MEASURE INNOVATION'
ACCELERATE YOUR LEARNING
DIG DEEPER ON INNOVATION & DIGITAL TRANSFORMATION STRATEGY
Developing a competent Digital Transformation Roadmap
with unique
"features"
for every business—that's a real challenge.
USP and User Interface · Intuitive Navigation · Personalization · Data Privacy · Monetization, all these and more are covered by our blog posts.