A CASE STUDY
/ BIG HEALTH
Using digital therapeutic to fight sleep disorders.
THE CHALLENGE
One in three workers in the USA suffers from poor sleep. This impacts workplace productivity and increases healthcare costs for employers. To tackle this problem, global digital therapeutics leader Big Health created Sleepio™, a digital sleep improvement program. Big Health needed a user-friendly and dynamic way to assess people's sleep state and prescribe a course of action to improve sleep.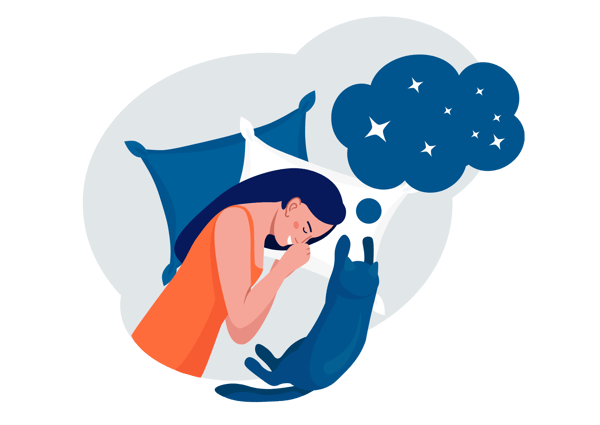 Big Health x SF AppWorks
To solve this problem, we built a dynamic onboarding flow that leads a patient through the diagnostic questionnaire and offers a personalised therapy plan.

Over a period of two years, we supported Big Health in various ways:
TOUCH
A DYNAMIC ONBOARDING FLOW
A DYNAMIC ONBOARDING FLOW
Sleep disorders come in many forms. We built an onboarding experience that dynamically adapts flows and questions based on user input, ensuring precise content targeting and adaptability.
TOUCH
A CMS-LIKE ADMIN PANEL
A CMS-LIKE ADMIN PANEL
Organizations offer Sleepio to their employees and require high levels of customization. We created a CMS-like admin panel that allows Sleepio clients to configure pages, content, custom questions, and calls to action for every customer.
TOUCH
INTEGRATIONS WITH MULTIPLE SYSTEMS
INTEGRATIONS WITH MULTIPLE SYSTEMS
User choices and free input data collected by the onboarding flow need to be processed by the proprietary system before cognitive behavioral therapy course can be prescribed. To facilitate this, we built integrations and data transfers with Sleepio's legacy system.
BADGES WE'RE PROUD OF
RECENT AWARDS AND RECOGNITIONS
LET'S BUILD SOMETHING TOGETHER
Whether you need early-stage technical consulting, re-engineering or optimization of existing technologies, or something in-between, the first step is an intro call.