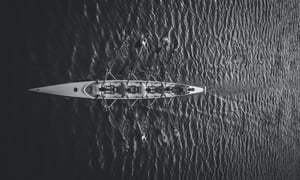 IT STAFF AUGMENTATION SERVICES
TOP STAFF AUGMENTATION SERVICES IN USA — TO GET YOUR SOFTWARE PROJECT DONE ON TIME
As one of the leading Team Augmentation Companies in USA, SF AppWorks can provide experienced developers for your project.
TOP IT STAFF AUGMENTATION SERVICES IN THE USA - A RECENT RECOGNITION
We are overjoyed to have received recognition for our Top IT Staff Augmentation Services (February, 2023).
For over a decade, we have been offering high-quality IT staff augmentation services to the best companies in the USA. We now that hiring developers can be challenging in a space where the recruitment process is long & tedious, the risk is uncomfortably high, and the costs pile up rapidly.
We have a team of experienced IT professionals who are well-versed in the latest technologies and industry trends, and are committed to delivering exceptional results for our clients. This has earned us a reputation as a reliable partner for team augmentation services and helped us build long-term relationships with some of the most successful companies.
SOFTWARE DESIGNERS AND DEVELOPERS, ON-DEMAND.
We've helped startups and mature companies scale up their development capabilities to pursue new business opportunities, launch new products, or keep pace while hiring in-house developers. Whether you need a complete technical arm to your business or are exploring a hybrid team, we can provide experienced developers and designers for short and long-term engagements.
3 MODELS TO EXPLORE WORKING WITH AN EXTERNAL DEVELOPMENT TEAM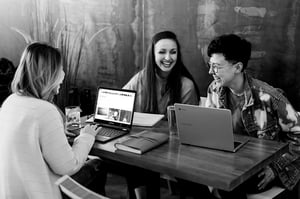 TEAM AUGMENTATION
Our software developers join your tech team to work under your project management and product direction.

Ideal for when you need help meeting a tight deadline, when you need expertise in a certain area, or when you you need more firepower to pursue your product roadmap.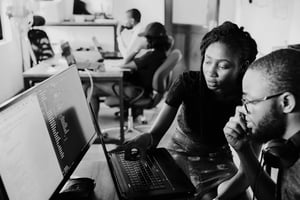 CO-DEVELOPMENT
We assemble a team of developers, designers, quality assurance specialists, technical architects, and project managers to complement and work alongside your team or another vendor's team.

Ideal for when you have some, but not all of the pieces of a highly productive software development team.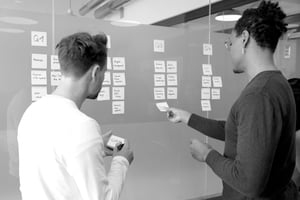 MANAGED SERVICES
Our fully functioning software development team led by our Scrummaster, but following your product direction.


Ideal for when you have a product roadmap, but need help implementing features or for when you need to improve software development process and productivity.
SHORT-TERM TEAM
Peak Resources. We are able to jump in quickly and help you meet a tight deadline.
One-off projects. Our highly qualified software developers, designers, and QA work under your product management for the duration of the project.
Speed. Availability within a few days after the discovery call.
LONG-TERM TEAM
Direct control over your hand-picked team.
Recruiting, office management, legal, and accounting tasks are managed by us.
Retention of the talent is on us: team buildings, events, surveys, trainings, burnout management.
Swap resources as you need.
Scale your team up or down as you need within a few weeks.
YOUR TEAM COACHED BY US
Get help setting up a team augmentation and project outsourcing strategy.
Agile expertise and process management.
Technical architecture and product roadmap discovery.
TOP IT STAFF AUGMENTATION SERVICES COMPANY · F.A.Q.
What is the difference between Team Augmentation and Outsourcing?
Outsourcing refers to the process of engaging an external development team to deliver a project. An agency reviews the requirements, assembles a team, manages the team, and delivers the work product.

Team Augmentation refers to the process of integrating external developers into your existing development team, which is often in-house. Team augmentation can be short or long-term. You retain full managerial control over a project and its team members. The staff augmentation agency sources candidates according to the skillset you need, then manages the HR processes of those team members. They also provide workspace and equipment, typical employee perks and benefits, and a social environment.
What is a minimal engagement time for the team augmentation services?
While there is no minimum engagement time for team augmentation services, companies will often engage a team augmentation agency on a yearly basis. As in any collaborative environment, trust and cooperation improve over time. However, unlike with direct hires, a team augmentation agency can swap out resources when skillset needs change, or when the fit isn't quite right. In some cases, teams will also engage staff augmentation agencies to fill short-term needs while a company is hiring. We've even helped interview and train direct hires.
What is your tech stack for team augmentation?
Our expertise is in the following technologies:
Backend: Node.js, Python,Ruby on Rails, .NET, PHP

Front-end: HTML, CSS, JavaScript, React, NextJS, Angular, Progressive Web App

Mobile: React Native, iOS, Android

CMS: Drupal, Prismic, Wordpress, SharePoint, Shopify, Hubspot, WebFlow

Infrastructure: Heroku, AWS, Azure, Google Cloud, Netlify, Vercel & Fastly

Database: MongoDB, DynamoDB, Postgres, MySQL, MS SQL, Redshift

AI: IBM Watson, TensorFlow, Clarifai, Microsoft ML Platforms, Google Assistant, Amazon Alexa


Design
We also work with several specialist agencies. If you require technical knowledge in a field we don't specialize in, chances are we know and have worked with an agency that does.
Where do you find engineers and designers to augment my team?
We have over 60 full-time engineers and designers working on a diversity of technical projects in a variety of industries. As projects ebb and flow, we typically have various team members coming off of projects each month. With planning and preparation, we can present you with strong candidates to interview and integrate into your team.
We also have a strong network of partner agencies that we occasionally tap into to augment our own services. These agencies are trusted partners that we have worked with in the past. We also employ our own project managers and tech leads when integrating with outside agencies. It's our reputation on the line, after all.
Finally, we recruit and train students from 11 universities to join our ranks and work alongside our leaders before joining projects of their own. This provides us with team compositions of energetic producers and seasoned leaders that deliver at a high level for world-class companies.
What price model do you use for your services?
Well that's a loaded question. We charge Time & Materials (hourly), though often we'll build in Not to Exceed budgets for planning purposes, then work together to prioritize must-haves and nice-to-haves to ensure on-time and on-budget delivery.
Our prices are best thought of in the context of direct hiring. Hiring a full-time developer with mid-level experience will cost you anywhere from 150-250K/year. Seniors regularly earn 400K+ at top startups. The speed with which a developer can implement something grows exponentially with experience.
Most contract developers range from $50-150/hour, depending on their location. We've priced ourselves to cost about what a mid-level engineer costs, but deliver a senior-level team with supporting Quality Assurance, architecture, and Scrum management.
How long does it take to augment my team?
All engagements begin with an exploratory call to assess your needs and gather information about the skill sets you need and the type of team members you feel will work best in your environment. If we feel we are a strong match, we will present candidates for you to interview. The process moves only as fast as it needs to - typically this means 4-6 weeks from initial conversation to 'first day on the job', though it can take more or less time depending on circumstances. Our record for fastest turnaround is 24 hours from conversation to start.
Closer Look:
OUR MOST RECENT STORIES ON STAFF AUGMENTATION
Great companies need great developers. These are a few who have chosen to augment their tech teams with SF AppWorks.
AARP
Team Augmentation to build a new product in the AGING2.0 space.
Humana
Team Augmentation to build new digital experiences in the insurance space
Fabric
Team Augmentation to build a headless e-commerce platform.
STAY IN THE LOOP
Get stories and achievements from designers and developers delivered to your inbox.
Sign up below and join our community of digital makers.
"Working with SF
AppWorks was one of the best experiences I've had in digital product development in almost two decades. The team was always excited for the
next challenge, willing to take apart problems and solutions alike to find the best route forward, and overall fun to work with. It was as if I finally found the people who spoke my language and knew how to make my thoughts reality."
"I've worked with the SF AppWorks dev team across multiple projects and technologies. They're a great group of developers – highly skilled and capable of delivering complex products with quick turnaround. They are particularly well-suited for rapid prototyping or innovation work."