A CASE STUDY /
TENOR
We love working on fresh concepts, ideas and technologies that break industry standards and generate online traction.
TENOR'S GIF KEYBOARD
Who isn't grateful for GIFs? In a world where most communication has gone digital, it's easy to take the ability to express, well, virtually any human sentiment right from your messages for granted. But making Tenor's GIF media library accessible through integrated mobile keyboards across several major operating systems was no small feat.
THE CHALLENGE
When Tenor burst on the tech scene of San Francisco in 2013, a rapid slew of competitors with near identical products was hot on its heels. Tenor needed an expert team of developers that could work with real speed to secure Tenor's integrations with key partners including Microsoft, Viber, Atlassian, and others. We were onboarded to tackle these challenges, and wound up helping out with all kinds of new tools to support easy sharing of their mobile video product.
TOUCH
ANDROID FACEBOOK INTEGRATION
ANDROID FACEBOOK INTEGRATION
We built the integration for Tenor's GIF keyboard on Android and Facebook, so users beyond those on Apple's iOS could search for gifs through their mobile devices.
TOUCH
CHAT INTEGRATIONS: ATLASSIAN, VIBER, MICROSOFT
CHAT INTEGRATIONS: ATLASSIAN, VIBER, MICROSOFT
With the GIF keyboard quickly gaining traction, the then-startup needed expert development, and they needed it fast. Securing key partnerships with major tech firms would eliminate copycat—ahem, competition and stabilize its hold on the budding market.
TOUCH
REAL TIME GIF-CREATION FEATURE
REAL TIME GIF-CREATION FEATURE
We even had the opportunity to work on an iOS feature for Tenor that would allow users to create their own gif content in real time from selected media. Learn more about our prototyping services here.
QUALITY ASSURANCE & TESTING
We provided ongoing testing and quality assurance for the integrations we built on Android, Facebook, and several other platforms, as well as Tenor's native apps. Our testing spanned multiple devices and included user experience evaluation.
SUCCESS
Our work on Tenor now supports its capacity to send animated GIFs and videos to over 200m users per month. Our Facebook integration also got Tenor (now owned by Google) featured in Faceook's annual F8 conference, which led to a significant and enduring boost in traffic.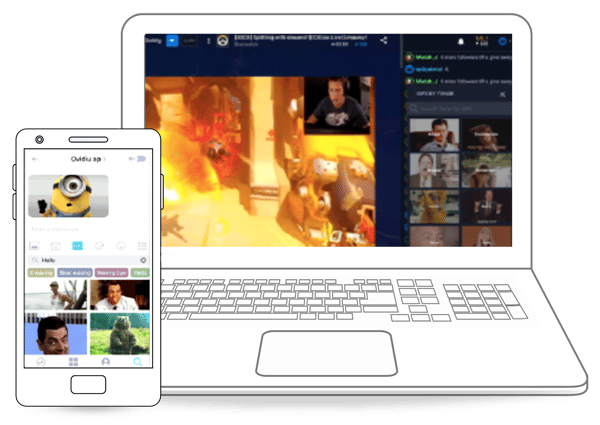 "
I have worked with Andrew and his team on 4 projects spanning 3 companies and 3 platforms (iOS, Android, and Web). They are a complete production / development team and excel in design and engineering and delivering finished products. They enable us to quickly expand our development capacity and capability beyond what we are able to staff ourselves.
"

LET'S BUILD SOMETHING TOGETHER
Whether you need early-stage technical consulting, re-engineering or optimization of existing technologies, or something in-between, the first step is an intro call.