Scaling a startup is every founder's dream come true. But, it's loaded with tough decisions and unexpected challenges.
This is something Henrique Dubugras and Pedro Franceschi, the Co-Founders and Co-CEOs of fintech startup Brex, know first-hand. I recently sat down with the Brazillian-born founders on The Next Great Thing podcast, where they pulled back the curtain and shared insights into what happens when a startup grows so big, so fast.
Still in their 20s, Henrique and Pedro have already founded and scaled two successful fintech startups together. Their first, Pagar.me, was a Stripe-like payments processor for Brazil. They took what they learned from that experience to found Brex, a corporate credit card and spend management platform, in 2017. Since then, the company has gone global, reaching a $12.3 billion valuation and being named #2 on CNBC's Disruptor 50 list this year (right behind OpenAI).
Listen to the episode on our website, Apple Podcasts, Spotify, or anywhere you listen to podcasts.
One great thing I learned: Mastering the art of scaling fast requires staying nimble — no matter how big you get.
From day one, it seems, Brex was a success. Knowing the payments landscape from Pagar.me, Henrique and Pedro were uniquely positioned, and they were able to identify an unsolved problem that so many startup founders face: the need for corporate credit cards. They built a backend to instantly approve entrepreneurs for high-limit credit cards, without personal guarantees. Though the MVP was barebones, demand, and product-market fit, was instant. Within 18 months of launch, Brex reached $100 million in revenue, an astounding milestone.
Success like this is virtually unheard of in Startup World. But warp-speed scaling isn't all rainbows and revenue. As Brex grew and expanded its team, Henrique and Pedro said they began to drift further from their customers. Difficult pivots followed. They made the tough decision to let go of small business customers in order to focus on better serving venture-backed startup and enterprise customers. It's a decision Pedro says he wishes was executed better but was, ultimately, the right one for the business.
"Scale is like a blessing and a curse," Pedro says. "The secret of scaling a company is, how do you become a big company with the mindset of a small company?"
It's a warning that I think applies to both startups and large companies alike. Maintaining the mindset of a small, nimble company, even as it grows larger, entails the ability for leaders to operate at all levels. Pedro says this is a crucial predictor of leadership success at Brex. Leaders must operate at all levels — from analyzing data to reviewing product designs to taking customer support calls. Excellence requires immersion. Avoiding the "dis-economies of scale" is critical.
In the world of startups, growth is an accomplishment, but it's not without its complexities. Henrique and Pedro's incredible journey shows how founders of any age can achieve incredible traction through hustle, persistence, and smart scaling. It's also an important reminder that scaling isn't just about expansion; it's about maintaining the core principles and adaptability that made you successful in the first place.
Get a Free Copy of 'Just Start (Up): The Founder's Guide to Becoming
The Next Great Thing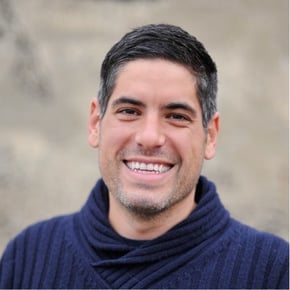 Andrew Greenstein
Andrew Greenstein is the CEO and Head of Product at SF AppWorks, an award-winning custom web and mobile design and development agency. He's also the host of The Next Great Thing, a popular technology podcast that explores new digital products and experiences — and conversations with the leaders making them great. For over a decade, Andrew has collaborated with Fortune 500s and startups to design, develop, iterate, and grow custom web, mobile, and software projects that create impact. An expert in lean startup methodology, design thinking, product development, and rapid prototyping, Andrew has partnered with AARP, Humana, West Elm, the Golden Globes, Vanguard, Google, and many others, helping them transform their game-changing ideas from concept to code.