Marissa Mayer is one of those people who needs no introduction. She's played a lead role in building and advancing products we use every day: Google Search, Gmail, Maps, and AdWords. Just to name a few.
So you can imagine how excited I was to talk with her on The Next Great Thing podcast about being on the brink of another technological revolution. It's rare to spend time with someone who's been so deeply entrenched in the developing world of artificial intelligence — from her Stanford days, to being hired as employee #20 at Google in 1999, to taking the helm at Yahoo in 2012, to now, where she's in a role she's never had before: startup founder.
Listen to the episode on our website, Apple Podcasts, Spotify, or anywhere you listen to podcasts.
"I like to work on everyday problems," Marissa told me. As the Co-Founder and CEO of Sunshine, she's continuing that work. The first problem she's tackling: cleaning up our contacts ("Everyone's contacts are a mess!"). The second: make us happier by improving our relationships. Both ambitious. Both with an assist from AI.
One great thing I learned: The next leap forward in AI will be its ability to understand us on a personal level — and for us to trust it enough to let it.
AI assistants like ChatGPT have amazed us all. But, they still lack real personal knowledge about you. That makes it hard for them to give genuinely helpful and tailored advice when you need it. While they're good at generating pictures and text, they don't know anything about your personal context, preferences, or relationships. That's why their suggestions can feel so generic (unlike a best friend who "gets" you and understands your unique situation).
Marissa gives the example of asking ChatGPT for a birthday gift recommendation for your dad. It won't know how old he is or what he's into because it doesn't have any info about him. So the gift ideas will likely be generic. To get better recommendations, you have to manually feed in all the important details in the prompt, which is a hassle. What we really need, she argues, is a system where AI can learn about us over time and use that info to offer tailored suggestions without the extra effort.
It will take time — and trust — for AI assistants to become truly personalized to us. To get to this smarter, more tailored level, we need more progress in things like quick learning, understanding users better, and keeping our personal info private. The end goal is an AI assistant that feels like a trusted advisor or friend who really knows you — understanding your unique circumstances and relationships. This shift can take AI from just spouting a bunch of vanilla gift ideas for "dad" to advice that hits home for each of us (and your dad).
Of course, developing detailed personalization with AI requires giving it access to more of our private user data — in Sunshine's case, giving it access to our contacts. That, understandably, will make some people uncomfortable. Privacy concerns are real, so transparency in how AI articulates personalization is essential to build user trust. With the right safeguards and systems that enable personalization while protecting privacy, companies building AI assistants could really be onto the next great thing.
How are you thinking about integrating more personalization and context into the AI systems you're working with? I'd love to hear about what you're facing.
Get a Free Copy of 'Just Start (Up): The Founder's Guide to Becoming
The Next Great Thing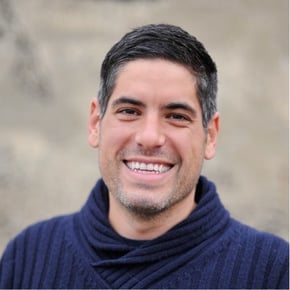 Andrew Greenstein
Andrew Greenstein is the CEO and Head of Product at SF AppWorks, an award-winning custom web and mobile design and development agency. He's also the host of The Next Great Thing, a popular technology podcast that explores new digital products and experiences — and conversations with the leaders making them great. For over a decade, Andrew has collaborated with Fortune 500s and startups to design, develop, iterate, and grow custom web, mobile, and software projects that create impact. An expert in lean startup methodology, design thinking, product development, and rapid prototyping, Andrew has partnered with AARP, Humana, West Elm, the Golden Globes, Vanguard, Google, and many others, helping them transform their game-changing ideas from concept to code.